Deception and desire intertwine as an undercover bodyguard gets too close to the woman he's sworn to protect.
Tabloid drama isn't Katelyn Wade's style. The illegitimate daughter of a notorious tycoon, Katelyn has worked hard to build a successful business on her own terms. She doesn't put much stock in the rumors that she's being targeted by someone with a vendetta against her father—until one of her employees at her restaurant turns up dead. Suddenly, she can't trust anyone. Especially not her new bartender, a man with an instinct for trouble . . . and a body made for sin.
Katelyn has no idea that Thorne Hudson is being paid to protect her. He certainly never meant to seduce her. Crossing professional lines never ends well, especially when the slightest distraction could put both their lives at risk. But even Thorne's military resolve, honed by years of training, is no match for Katelyn's undeniable sex appeal. And after one taste of her lush lips pushes him past the edge of temptation, Thorne aches to tell her the truth—just as soon as he knows she's safe from harm.
~Double Trouble~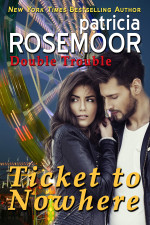 What is a classy woman who looks like she's been mud-wrestling hiding from in a carnival?
 Chick Lovett offers a desperate-looking Eden Payne shelter and a job working in his game booth. Having witnessed a body hauled onto a boat and a prominent politician who was involved, Eden can't go home.
As they work together to find proof of a woman's murder, as attraction brings them closer than he's ever been with another woman, "Chickie-loves-it" wonders if Eden will ever realize he's more than a seasoned carny.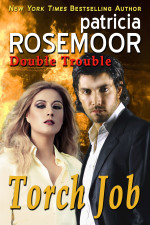 Trust fund lost, debutante Taffy Darling sees her life go up in smoke when the building where she got her first job is torched.
If not for photographer Paco Jones, she would be dead. Paco is a successful advertising photographer, yet makes powerful statements about social problems through his personal photography.
Drawn together by their search for the arsonist, they fall in love. Because her family has always made Taffy feel like she couldn't do anything right, she fears their relationship will implode like the rest of her life.

---
Fans of Linda Howard will love Dangerous, the story of a driven female cop who teams up with an irresistible ex-con to bring a killer to justice—and discovers that breaking the rules is hotter on the wrong side of the law.
Chicago homicide detective Camille Martell will stop at nothing to track down "Angel," a sexual predator who has already butchered two young victims—even after her off-the-books investigation leads to her suspension. But when her relentless attempts to contact Angel online puts her teenage neighbor in mortal danger, Camille's worst fears are realized. Panicked and overwhelmed with guilt, Camille needs help—even if it comes from the one man she swore she'd do anything to forget.
After serving time for a trumped-up charge, private investigator Drago Nance doesn't trust cops. Nothing will change that, not even the steamy weekend with Camille that burned itself into his memory. But with an innocent girl's life at stake, Drago can't ignore the need in Camille's eyes, or the heated promise in her touch. He agrees to help—if she's willing to play by his rules. He just never suspected that seducing his partner could be just as thrilling as chasing a madman.
Is he the man she thinks he is…or is he the killer?
Lilith Mitchell finds her runaway sister dancing at a gentleman's club. They barely reconnect when a killer kidnaps Hannah. Keeping his victims prisoner for days, he then hunts them in a forest preserve. Determined to save Hannah before it's too late, Lilith takes Hannah's place at the club to lure the killer into coming after her.
There she meets Michael Wyndham, documentary filmmaker whose current project SKIN is a psychological study of the dancers. Lilith connects with him and falls under his spell…but is Michael the man he seems to be, or is he the one terrorizing her?
In a world of deception, where everyone seems guilty, who can Lilith trust?
---