See Me In Your Dreams  (The McKenna Legacy  Book 1)
RT Book Reviews Top Pick: Thrills abound!
Keelin McKenna inherited her grandmother's ability to dream through other's eyes, but will she be able to convince Tyler Leighton his teenage daughter is in danger before it's too late? Tyler thinks Keelin is trying to run a scam on him until she dreams of something known only to him and his daughter. As they work together to find the girl, they can't fight their attraction or stop themselves from falling in love.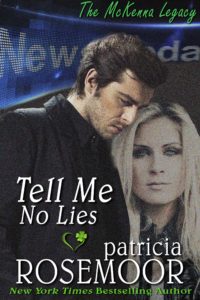 Tell Me No Lies  (The McKenna Legacy  Book 2)
Skelly McKenna, host of The Whole Truth, tells a story about Rosalind Van Strattan's grandmother that makes her angry and worried that her company Temptress will suffer. Digging into the past puts them both in danger even though Skelly doesn't believe in his grandmother's legacy. Roz holds the key to the story of a lifetime…one that could make his career…and ruin her family.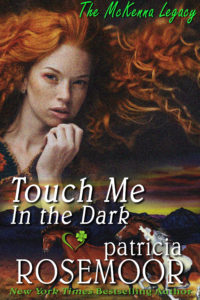 Touch Me in the Dark  (The McKenna Legacy  Book 3)
Kate Farrell could communicate with the wild horses on the mustang refuge, not in words, but in feelings. So after trampling her oldest friend and mentor, why were the mustangs silent?  Someone started the deadly stampede, and Kate suspected Chase Brody, who ran the refuge. They'd once shared passion both for horses and for each other. Now she doesn't even know if she can trust him.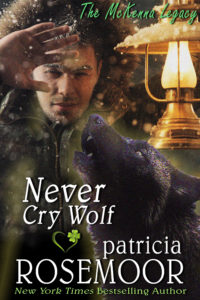 Never Cry Wolf  (The McKenna Legacy  Book 4)
Lone wolf Donovan Wilde barely acknowledged his McKenna family legacy until Laurel Newkirk found him in the deep Wisconsin woods. Laurel claimed to have had a relationship with 'Donovan Wilde,' but this Donovan was stronger, sexier than the impostor who ran out on her. Suddenly Donovan finds himself yearning not only for love, but when his father is attacked, for family. He finally might be ready to be a McKenna, but would his family welcome him now? Would the impostor ruin it all for him by killing the woman he loved?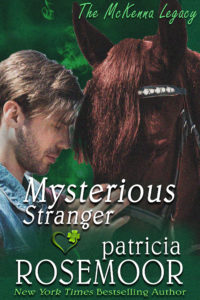 Mysterious Stranger  (The McKenna Legacy  Book 5)
Curran McKenna communicated with horses, a gift passed down from his grandmother. But when called from Ireland to Kentucky to gentle a crazed horse, he discovered a connection that was magic with the beautiful wounded owner. Jane Grantham survived a brutal attack, but now her hope of staying alive and winning the Thoroughbred Millions cup was in the hands of a mysterious stranger who claimed he could heal her horse.