Romantic Suspense Series
CLUB UNDERCOVER
No cover charged… no ID required… safety guaranteed…
Where those in trouble go when they have no place else to turn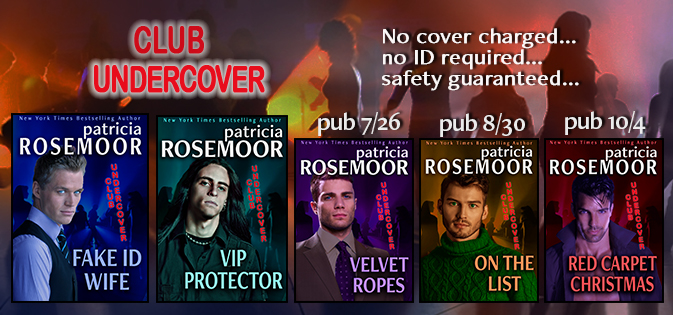 Fake ID Wife (Book 1)   Falling in love with her fake husband as she tries to rescue her child, Elise has no idea that Logan has his own covert reasons to keep her close.   https://tinyurl.com/Fake-ID-Amazon
VIP Protector (Book 2)   Lynn realizes Blade seems as if he needs to keep her safe, but why? What terrible secret is he keeping from her? https://tinyurl.com/VIP-Protector-Amazon
Velvet Ropes (Book 3)   When evidence connects the violence of their past to their present-day case, Stella is suddenly in danger again, and Dermot will do anything to keep the only woman he's ever loved safe this time.           Pre-order for 99c until July 26  https://tinyurl.com/Velvet-Ropes-Amazon
On the List (Book 4)   Renata knows she can trust Gabe with her life and heart, but why did the mysterious stranger force her to accept his help?
Red Carpet Christmas (Book 5)   Clearing Simone of a yuletide murder could reignite the past and a forbidden passion that still burns between her and Gideon, but she can't let him discover what she'd kept hidden from him all these years.
---
Meet  
DETECTIVE  SHELLEY CALDWELL
Detective Shelley Caldwell novels and stories have a new digital life in a 3 book series. To her dismay, Shelley catches all the woo-woo cases in Chicago and has to pursue supernatural killers while hiding that element from her disbelieving department.

HOT CASE – Shelley has to deal with the idea that the murderer really is a vampire.
HOT TRICK – It's happening again. Shelley suspects the illusionist is really a mage working black magic.
HOT TALES – Okay, so Shelley is getting ALL the woo-woo murder cases — she has to deal with a siren and a sin eater in two short stories, and a satyr in a Christmas novella.
Start with HOT CASE

---