PNR Suspense Series
KINDRED SOULS
ANIMAL INSTINCTS
Animal lover and rescuer, Skye Cross has always been able to communicate with them. She's horrified that rescuing dogs from an illegal fight actually involves shifters. This leads her to Luc Lazare, a man whose powers both unsettle and intrigue her. Half-human, half-Kindred, Luc falls for Skye, who might have the power to destroy his shapeshifting family. Skye soon finds herself caught in a supernatural underground she never knew existed, relying on a man who heats her blood…but one she can't trust.
ANIMAL ATTRACTION
Spurred by a shifter kill, Detective Ethan Grainger seeks out Nuala Lazare, daughter of the supernatural underground's Kindred leader and pregnant by Ethan's late partner Shade. Because Nuala blames him for Shade's death, he's avoided her until now. The chemistry between them comes to a head the night she has her baby. Ethan swears to protect them, so when they are kidnapped by a powerful Kindred, he seeks help to gain the supernatural abilities he needs to rescue the woman and newborn girl who now have his heart.
ANIMAL MAGNETISM
Detective Isabeau DeClercq moved to Chicago to get justice for her parents' murders.  She found Kindred Nik Lazare's invitation to The Ark casino—the heart of Chicago's supernatural underground—near their bodies. Nik's dark reputation precedes him. Half-Kindred, Half-Powers, Isabeau wants to prove him guilty the human way, to honor her parents. Nik just wants to stay away from Isabeau when Pop orders him to work with her on a Kindred kill at the zoo. But soon a meeting of souls that defies logic consumes Isabeau and Nik.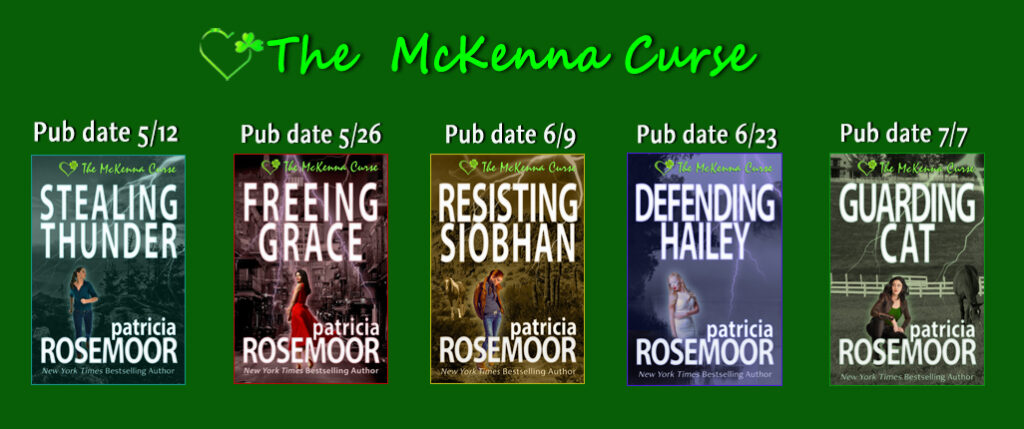 June 22, 1919
Donal McKenna,
Ye might have found happiness with another woman, but yer progeny will pay for this betrayal of me. I call on my faerie blood and my powers as a witch to give yers only sorrow in love, for should they act on their feelings, they will put their loved ones in mortal danger.
So be it,
Sheelin O'Keefe
Stealing Thunder (The McKenna Curse 1)
Nothing can stop Tiernan McKenna from rescuing Ella Thunder, fearful of tapping into her shaman abilities, even as evil begins to spread. But when Tiernan realizes he loves Ella, will the curse claim her
Freeing Grace (The McKenna Curse 2)
Grace Broussard shut down her psychic visions and vowed never to trust another man until she meets New Orleans P.I. Declan McKenna. Every touch ignites a powerful passion between them, making Declan wonder if he can save the woman he loves.
Resisting Siobhan (The McKenna Curse 3)
Widow Siobhan McKenna pushed Clay Salazar away to save him and married another man. With their connection severed, she thinks his life should be safe if he works to help stop the attacks on her ranch. Or will the McKenna curse claim another victim?
Defending Hailey (The McKenna Curse 4)
Bryce McKenna needs a wife to secure a business deal–and childhood friend Hailey Wright marries him for the money to save her brother's life. Hailey is drawn to solve an old mystery, but will her pursuing ghosts lead to the curse or salvation?
Guarding Cat (The McKenna Curse 5)
Horse trainer Aidan McKenna dreams about breeder Cat Clarke, but he knows the dangers of falling in love. When Cat's missing stable manager turns up dead, they have more to lose than races. Can Aidan defeat the curse to save the woman of his dreams?
Romantic Suspense Series
CLUB UNDERCOVER
No cover charged… no ID required… safety guaranteed…
Where those in trouble go when they have no place else to turn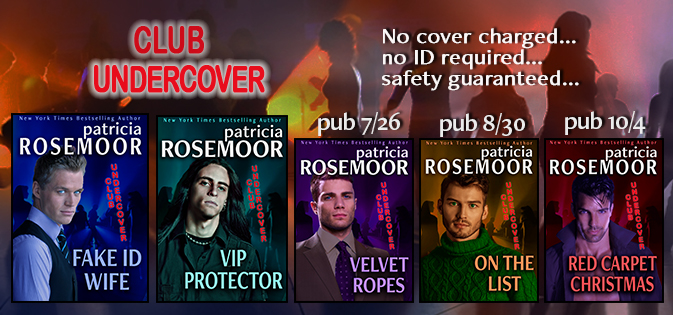 Fake ID Wife (Book 1) Falling in love with her fake husband as she tries to rescue her child, Elise has no idea that Logan has his own covert reasons to keep her close. https://tinyurl.com/Fake-ID-Amazon
VIP Protector (Book 2) Lynn realizes Blade seems as if he needs to keep her safe, but why? What terrible secret is he keeping from her? https://tinyurl.com/VIP-Protector-Amazon
Velvet Ropes (Book 3) When evidence connects the violence of their past to their present-day case, Stella is suddenly in danger again, and Dermot will do anything to keep the only woman he's ever loved safe this time. Pre-order for 99c until July 26 https://tinyurl.com/Velvet-Ropes-Amazon
On the List (Book 4) Renata knows she can trust Gabe with her life and heart, but why did the mysterious stranger force her to accept his help?
Red Carpet Christmas (Book 5) Clearing Simone of a yuletide murder could reignite the past and a forbidden passion that still burns between her and Gideon, but she can't let him discover what she'd kept hidden from him all these years.
---
Meet
DETECTIVE SHELLEY CALDWELL
Detective Shelley Caldwell novels and stories have a new digital life in a 3 book series. To her dismay, Shelley catches all the woo-woo cases in Chicago and has to pursue supernatural killers while hiding that element from her disbelieving department.

HOT CASE – Shelley has to deal with the idea that the murderer really is a vampire.
HOT TRICK – It's happening again. Shelley suspects the illusionist is really a mage working black magic.
HOT TALES – Okay, so Shelley is getting ALL the woo-woo murder cases — she has to deal with a siren and a sin eater in two short stories, and a satyr in a Christmas novella.
Start with HOT CASE

---