Sons of Silver Springs
The Quarrels brothers are back in town!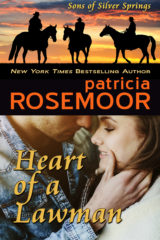 From RTBookReviews: With her typical flair for writing exciting adventure that captures readers from the very first, Patricia Rosemoor does it again in HEART OF A LAWMAN (4.5)
Bart
Tragedy sent Bart Quarrels home to his dying father's side, but there was something wrong at the family ranch. Something wrong with the new horse wrangler he hired. Josie couldn't remember her past. But someone did. He was trying to kill her. Would Bart be able to protect her from the past that threatened their future together?
---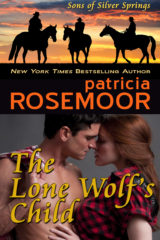 Chance
Always feeling like the misfit in his family, Chance Quarrels had never been able to stay at the Curly-Q for long. But no matter how many times he left Silver Springs for the rodeo circuit, he always came back—not just to the ranch and town, but to Pru Prescott, the woman who'd always had his heart. And who'd borne his child without ever letting him know. This time Chance brought trouble home with him. He was a prosecutor's reluctant witness to a crime—and the murderer didn't want him testifying. When the killer went after Pru's little girl as leverage, Chance would stop at nothing to save her.
---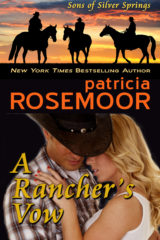 Reed
Reed Quarrels never gained his father's approval. Now was his chance. All he had to do was marry the daughter of the banker who held the overdue mortgage on the ranch. Alcina Dale had loved Reed forever, so when he proposed a marriage of convenience, she took her chance. When surprising passion pulled them together, they became aware of a plot that threatened not only the ranch, but their lives…
---
Double Trouble
---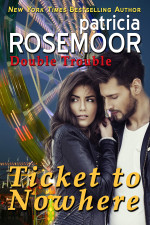 What is a classy woman who looks like she's been mud-wrestling hiding from in a carnival?
Chick Lovett offers a desperate-looking Eden Payne shelter and a job working in his game booth. Having witnessed a body hauled onto a boat and a prominent politician who was involved, Eden can't go home.
As they work together to find proof of a woman's murder, as attraction brings them closer than he's ever been with another woman, "Chickie-loves-it" wonders if Eden will ever realize he's more than a seasoned carny.

---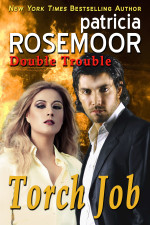 Trust fund lost, debutante Taffy Darling sees her life go up in smoke when the building where she got her first job is torched.
If not for photographer Paco Jones, she would be dead. Paco is a successful advertising photographer, yet makes powerful statements about social problems through his personal photography.
Drawn together by their search for the arsonist, they fall in love. Because her family has always made Taffy feel like she couldn't do anything right, she fears their relationship will implode like the rest of her life.

---
Fans of Linda Howard will love Dangerous, the story of a driven female cop who teams up with an irresistible ex-con to bring a killer to justice—and discovers that breaking the rules is hotter on the wrong side of the law.
Chicago homicide detective Camille Martell will stop at nothing to track down "Angel," a sexual predator who has already butchered two young victims—even after her off-the-books investigation leads to her suspension. But when her relentless attempts to contact Angel online puts her teenage neighbor in mortal danger, Camille's worst fears are realized. Panicked and overwhelmed with guilt, Camille needs help—even if it comes from the one man she swore she'd do anything to forget.
After serving time for a trumped-up charge, private investigator Drago Nance doesn't trust cops. Nothing will change that, not even the steamy weekend with Camille that burned itself into his memory. But with an innocent girl's life at stake, Drago can't ignore the need in Camille's eyes, or the heated promise in her touch. He agrees to help—if she's willing to play by his rules. He just never suspected that seducing his partner could be just as thrilling as chasing a madman.
---
Deception and desire intertwine as an undercover bodyguard gets too close to the woman he's sworn to protect.
Tabloid drama isn't Katelyn Wade's style. The illegitimate daughter of a notorious tycoon, Katelyn has worked hard to build a successful business on her own terms. She doesn't put much stock in the rumors that she's being targeted by someone with a vendetta against her father—until one of her employees at her restaurant turns up dead. Suddenly, she can't trust anyone. Especially not her new bartender, a man with an instinct for trouble . . . and a body made for sin.
Katelyn has no idea that Thorne Hudson is being paid to protect her. He certainly never meant to seduce her. Crossing professional lines never ends well, especially when the slightest distraction could put both their lives at risk. But even Thorne's military resolve, honed by years of training, is no match for Katelyn's undeniable sex appeal. And after one taste of her lush lips pushes him past the edge of temptation, Thorne aches to tell her the truth—just as soon as he knows she's safe from harm.
---
Is he the man she thinks he is…or is he the killer?
Lilith Mitc
hell finds her runaway sister dancing at a gentleman's club. They barely reconnect when a killer kidnaps Hannah. Keeping his victims prisoner for days, he then hunts them in a forest preserve. Determined to save Hannah before it's too late, Lilith takes Hannah's place at the club to lure the killer into coming after her.
There she meets Michael Wyndham, documentary filmmaker whose current project SKIN is a psychological study of the dancers. Lilith connects with him and falls under his spell…but is Michael the man he seems to be, or is he the one terrorizing her?
In a world of deception, where everyone seems guilty, who can Lilith trust?
---
Sydney Raferty Lord claims her husband died on their wedding day. Not that his body washes up on the rocks where he supposedly had his accident. Not that she can prove she ever married the man in the first place. When his body is found in the woods, Sydney claims this is not the man she married! Benno DeMartino, Kenneth's lifelong friend, is torn between loyalty for the dead man and an undeniable attraction to the supposed widow. Maybe he's crazy, because Benno aims to find the murderer and in the process help prove Sydney innocent. FREE at Amazon.
---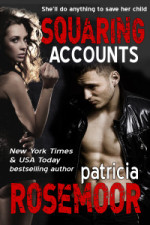 She'll do anything to save her child
Ex-Hollywood star Honor Bright is terrified when her five year old daughter is kidnapped. The ransom: steal documents from lobbyist Dakota Raferty. Though horrified at doing something illegal, she fears for her child's life. When he catches Honor stealing documents, a sympathetic Dakota sets out to find the kidnappers and save her daughter. Still, Dakota doesn't trust Honor, no matter how much he wants her.
---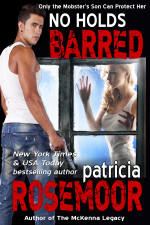 Only the mobster's son can protect her
Asia Raferty fights off a rape. Knowing this is a racketeer's plot for revenge against her judge father, Asia asks his son for help. Dominic Crawford knows approaching his estranged father to cool the vendetta would be a mistake. His sister Jessica might be able to influence King Crawley, but first they'll have to find her. Working with the sexy Dominic, Asia wants more than his protection.
---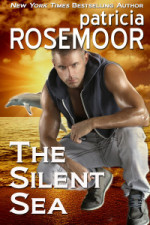 The silent sea holds dark secrets…
Marissa Gilmore searches the sea's edge for an escaped dolphin only to find the sleek mammal pushing a body ashore. The dolphin is the only witness to murder, and only Marissa can find a way to discover its secrets. Now, deep in the Florida Keys at a marine mammal refuge, Marissa wants to heal the dolphin, while Riley O'Hare wants to free it. Riley's lips speak contempt for her job as a marine mammal trainer, but his eyes kindle a fiery passion in her. Shielded by his arms, Marissa believes she's safe until the accidents begin…