Rebecca York, Ann Voss Peterson and I collaborated on five different paranormal romantic suspense projects. We each had our own  hero and heroine with an HEA, but the suspense continued through each series.  Only the full sets will finally get to the bottom of the murder mysteries. Be sure to read them all on Amazon ~ you can either purchase them or read them on Kindle Unlimited.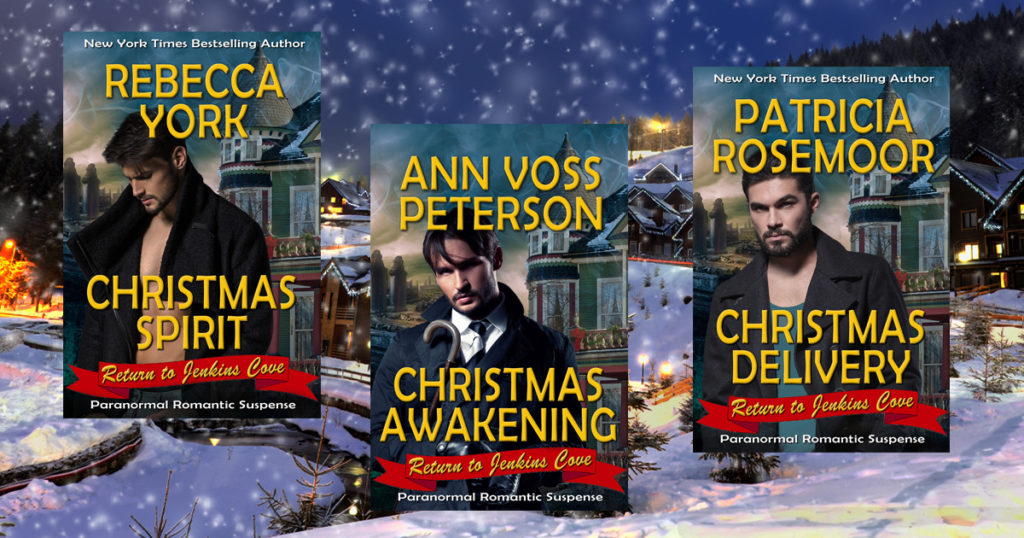 RETURN TO JENKINS COVE
Christmas… Ghosts… Mystery… Romance…
Something evil lurks in the charming town of Jenkins Cove. When Sophie Caldwell devotes a room in her B&B to communicate with spirits, dangerous secrets rise to the surface, and the lives of three couples will never be the same.
♥
Christmas Delivery by Patricia Rosemoor
Haunted by ghosts, Jenkins Cove will now have to deal with Simon Shea who has "returned from the dead" seeking revenge…only to reconnect with Lexie Thornton, the girl he loved, and the daughter they conceived thirteen years ago.

---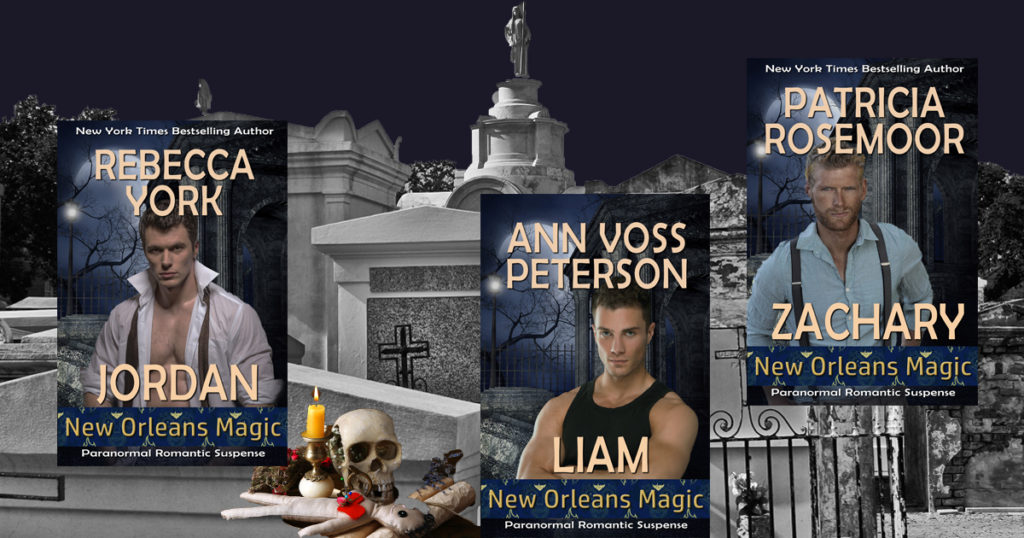 NEW ORLEANS MAGIC
A voodoo ceremony at a New Orleans bistro that ends in murder…  A detective with a vendetta throwing his weight around… Three brothers with everything to lose… especially the women they love…
♠
Part 3: Zachary by Patricia Rosemoor



Officer Zachary Doucet arrives at a murder scene‒‒the victim another voodoo ceremony participant‒‒only to face his ex-partner Detective Rebecca Romero. Zachary sees this murder as proof that the wrong man is in jail and intends to clear his half-brother Jordan. From experience, Rebecca fears he'll do anything to get what he needs, so she unofficially works the case with him. Their unconsummated attraction to each other flares anew, but with Rebecca a straight arrow and Zachary a maverick, is there hope for a future together?

---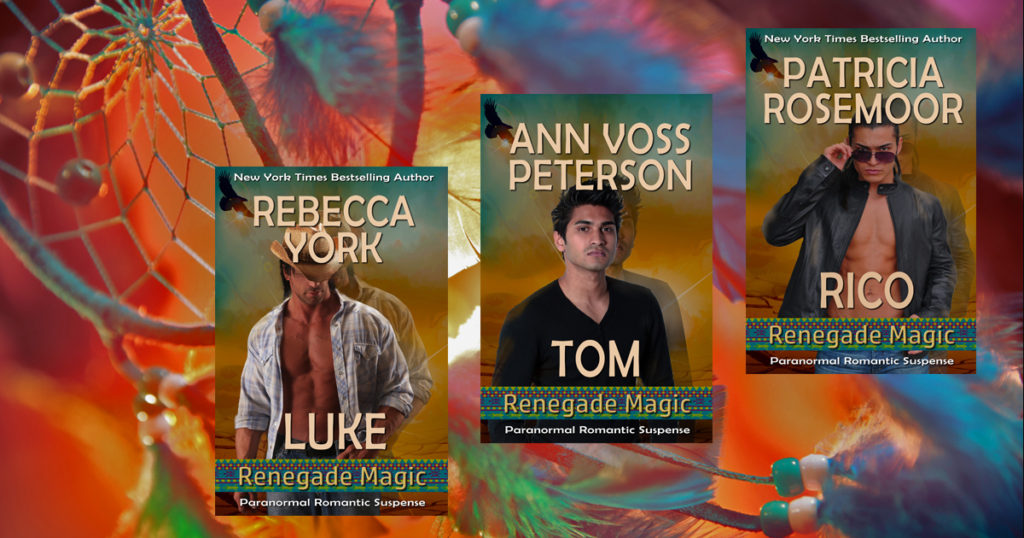 RENEGADE MAGIC
As teenagers, friends Luke, Tom, and Rico were constantly in trouble with the law. Now they're all grown up and determined to defeat a powerful shaman who can destroy the way of life in Sena Pueblo.  In their high desert community, the old beliefs have never died. And when witchcraft can be the only explanation for murder, these three former renegades must step up to save their people and the women they love.
♠
Part 3: Rico by Patricia Rosemoor
Though he sells Pueblo art in his Santa Fe gallery, Rico Tafoya abandoned the mystical beliefs of his heritage, an obstacle in his relationship with artist Charlotte Reyna, who is drawn to the old ways. Meditation pulls Charlotte straight into her paintings where she senses the witch who murdered Joe following her. Rico's disbelief makes Charlotte fear they will never mesh. Terrified of losing her when she is in a dangerous trance, Rico forces his mind to follow…but is he in time to save their people and claim Charlotte's heart?

---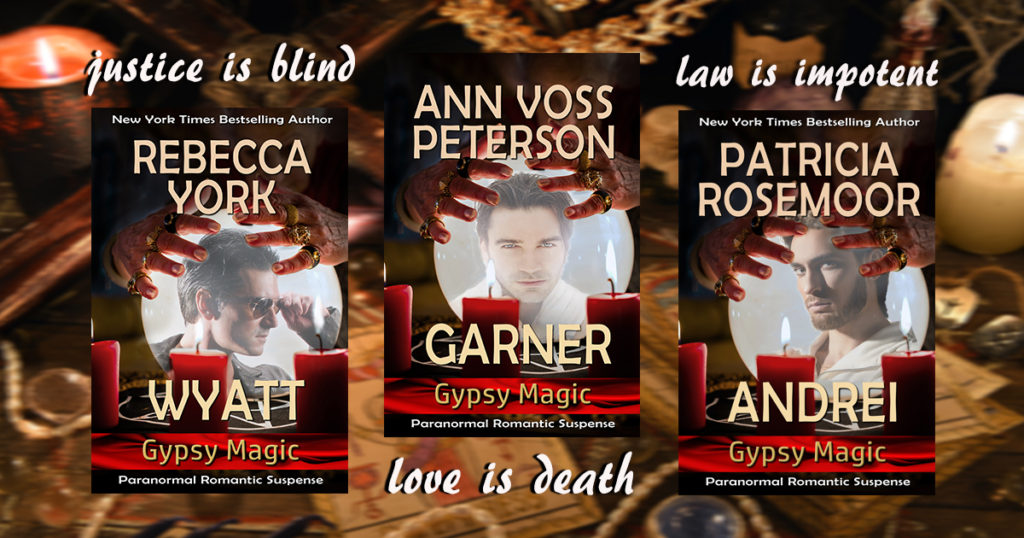 GYPSY MAGIC
From the pocket of her long skirt the old Gypsy pulled the bandanna with the objects. The pen. The crumpled paper cup. The metal tack. None was of great value. But they held the power she needed. For each had belonged to one of the people she was going to curse tonight. Her hand clenched the pen. "Justice is blind," she whispered, then joined the curse with the name of Wyatt Boudreaux. "Love is death," she intoned as she crumpled the paper cup in her hand and said the name of Garner Rousseau. Finally she picked up the tack and said, "The law is impotent," linking those words with the name of Andrei Sobatka.
♠
Part 3: Andrei ~ The Law is Impotent ~ by Patricia Rosemoor
Because his father testified against Carlo Mustov. Andrei Sobatka is cursed to never consummate his relationship with any woman. As Andrei tries to prove his cousin's innocence, he reconnects with the daughter of the murdered woman. Elizabeth Granville was his first and only love…as he was hers. As they seek out the truth about the murder together, can they find their way back to each other? Can their love nullify a gypsy curse?

---