I started out my career both writing as Patricia Rosemoor and under various psuedonyms with writing partner Linda Sweeney. Linda pursued a teaching career and became a professor, but a few years ago we were pulled back writing together for the Harlequin Heartwarming program. We have written 27 books together. Here are Lynn Patrick titles, new books for Heartwarming, re-releases by Samhain. And paranormal romance as Jeanne Rose as backlist we launched as indie/hybrid authors.
Our Heartwarmings can be found at Harlequin, and Amazon and other online retailers. Here is our newest Sparrow Lake Heartwarming, to be released May 1: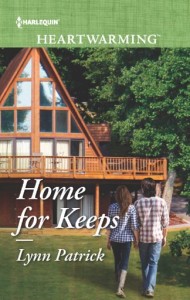 The other three Sparrow Lake connected novels:
And two former Superromances that were edited to appeal to romance readers of every age, some of the first Heartwarmings:
Here are our backlist books originally published by Dell made available by Samhain. You can buy them from Samhain/Lynn Patrick or at digital retailers.
---
Spellbound
Originally books written under our Roslynn Griffith pseudonym for Harper.
Available at Amazon
Paranormal Heartbreakers
Originally Jeanne Rose books written for Silhouette Shadows
Available at Amazon